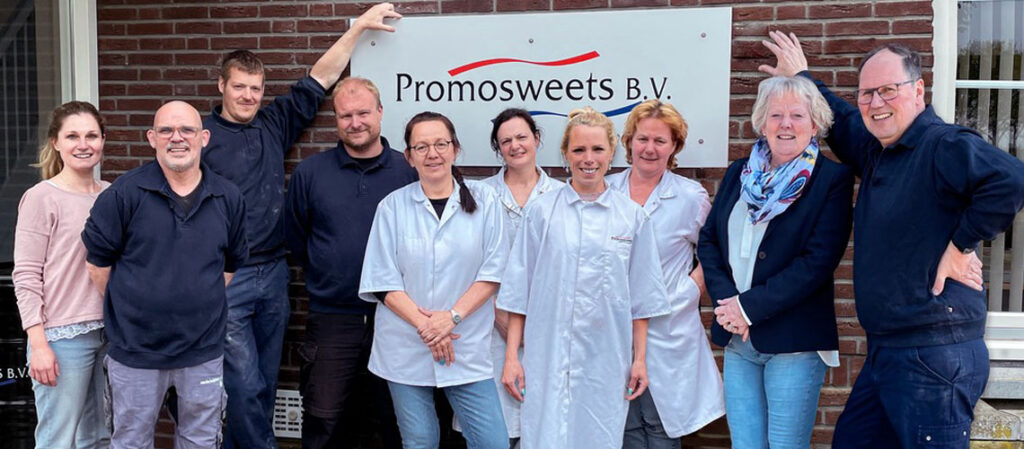 Promosweets is characterized as a professional organization that distinguishes itself in the market by:

Short and flexible delivery times for requests and orders.
High service level.
Personal approach.

Promosweets B.V. has an implemented HACCP quality system based on:

De principes van de Codex Alimentarius, versie 2003.
Hygiëneverordening: EG/852/2004 / EG/853/2004 en EG/854/2004.
Microbiologische criteria: EG/2073/2005.
BRC principes, versie 5.1.
FSSC 22000 principes.

Bio Certificate

Without gelatin

Promosweets B.V. produces GMO-free natural confectionery without gelatin.

International

Promosweets B.V. supplies in the Benelux, Europe and Asia.

Co-operation

Promosweets B.V. has a collaboration with Business Mints from Bunschoten for the promotional market. For wholesale and retail with Crest Suikerwerken from Weert and for the organic market with The Organic Factory BV from Bladel.
FSSC 22000 Certificate
Certificate number
C520760
Bio Certificate
Certificate number
1704090
Date of issue 18 may 2022